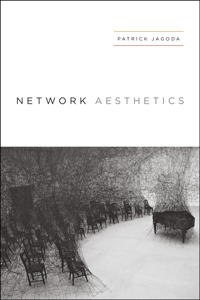 Network Aesthetics
Patrick Jagoda
University of Chicago Press, 2016
The term "network" is now applied to everything from the Internet to economic systems to terrorist groups. But the word's ubiquity has also made it a cliché, a concept at once recognizable yet hard to explain. Network Aesthetics explores how popular culture mediates our experience with interconnected life.
Each chapter considers how popular media and artistic forms make sense of decentralized network metaphors and infrastructures. The first half of the book examines narratives from the 1990s and 2000s, including the novel Underworld, the film Syriana, and the television series The Wire, all of which play with network forms to promote reflection on domestic crisis and imperial decline in contemporary America. The second half turns to digital media that are interactive, nonlinear, and dependent on connected audiences in order to show how videogames such as Journey open up space for participatory and improvisational thought.
Network Aesthetics makes contributions to fields including literary criticism, digital studies, media theory, and American studies. It demonstrates that, in the early twenty-first century world, networks can be felt, inhabited, and, crucially, transformed.
Review Quotes
"Network Aesthetics will transform the study of digital networks both for new media scholars and for film and literature scholars. Jagoda's monograph is a fully fleshed out, closely argued, and richly detailed account of an emergent network aesthetics that informs both analog and digital forms such as the novel, the television serial, the networked game, and the augmented reality game. A remarkable book: lyrical, deeply ethical, and inspiring."
— Lisa Nakamura, University of Michigan
"Network Aesthetics is ambitious and comprehensive, informed and original. Jagoda manages to retain the fluidity of the term 'network' while understanding it in both its utopian and dystopian dimensions, and he displays an alertness to, and facility with, issues of medium specificity that is both rare and very welcome."
— Scott Bukatman, Stanford University
"Jagoda's work makes key contributions to our understanding of the role of networks in contemporary cultural production and will be of value in a number of fields, from literary studies to film and television studies to digital media studies. Network Aesthetics is an important and timely book that powerfully affirms the ability of aesthetic forms and practices to help us make sense of our world—and also to intervene in it."
— Tara McPherson, University of Southern California
"Comparative in the richest way. . . Jagoda's sustained critical engagement with popular cultural forms is welcome at a time where the humanities, publicly and within the academy, are often asked to give an account of themselves and their value. . . . In his careful attention to the interplay between media and the modes of relation they give shape to, he does make the simple, necessary case for aesthetic work and the study of that work in today's political and cultural reality."
— Mary Pappalardo (Los Angeles Review of Books)
"Network Aesthetics constitutes a valuable corrective to the cultural lag of the academy, which often pretends—in the name of the Great Tradition—that we are all iterations of Kant listening to Bach while composing the next trans-meta-critique. . . . Jagoda has made an important contribution to aesthetic theory."
— Anthony Lioi (Contemporary Literature)
"This book certainly represents a key chapter in the scholarly history of cultural studies, with an undoubtedly original and inspiring approach, while offering a complete and comprehensive analysis of network and connection as 'infrastructural basis' and heuristic notions for the understanding of contemporary life, permeated with interdsciplinarity and transmediality."
— Silvia Bertolotti (Digicult)
"In all, Network Aesthetics is a valuable experiment in the work that cultural criticism can do for media and technology studies. Given the political stakes of living today within networks that exceed our ability to understand them, it is all the more important to find ways of imagining other forms of connectedness. Jagoda's book provides a framework for how that might be possible."
— Grant Wythoff (American Literary History)
"Patrick Jagoda's Network Aesthetics, focused equally on both digitality and formalism, is a marker for the current renaissance in tech theory."
— Alexander Galloway (Novel: A Forum on Fiction)
"The intersections of new media and literature have received much attention during the last two or three decades. Consider work by Lori Emerson, Dene Grigar, N. Katherine Hayles, Matthew Kirschenbaum, Janet Murray, Alondra Nelson, Jessica Pressman, and Alexander Weheliye, to name a few. Patrick Jagoda's Network Aesthetics adds to this conversation a focused and original analysis of networks, which are notoriously difficult to define, let alone study from a cultural perspective. Interpreting everything from novels, films, and television ("linear forms") to videogames and alternate reality games ("distributed forms"), Network Aesthetics identifies and examines five types of aesthetics: maximal, emergent, realist, participatory, and improvisational. This framework alone is a significant contribution to media and literary studies, and it further exhibits how the two fields inform each other."
— Jentery Sayers (American Literature)
Reviews
Cyborgology (Best of 2016 List)
Digicult (Italian and English versions)